Walking from Ookubo station for 4 minutes.
I visited before 15 o'clock on Sunday.
Appearance

I visited when ths store doesn't have waiting people on lunch time.I didn't wait. But the store has full.It has the counter that can sit back-to-back.
Menu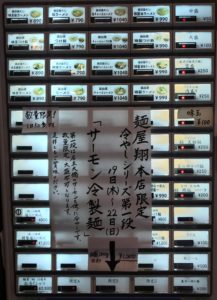 Kousai Toridashi Shio Ramen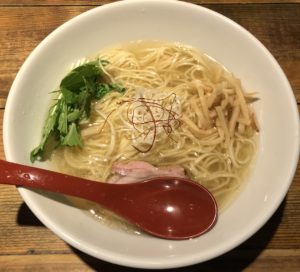 Soup:The soup stock made by chiken bone.And mixed by dried seafood and soup sutock of solt
Noodles:The middle thin straight noodle(made by Suganoseimenjo)
Toppings:Roasted pork,bamboo shoots,Japanese parsley,green onion,Shredded red pepper
The soup is clear because made by chiken bone.And It is mede by soup stock of seafood and some kinds of solt.The slippery noodle is the fewer. but it has good chewy.The roasted pork has roasting flavor.The bamboo shoots is white,thin and crunchy.I am interested in limeted cold noodle of salmon too.The ramen is recommended for woomen because it has no oily and refreshing.
Information ※Need to confirm
Address:7-22-34 Nishishinjuku,Shinjuku-ku,Tokyo
Opening hour:11:00-15:00/18:00-23:00 Sat,Sun,Holiday 11:00-15:00/17:00-21:00
Closed:opening all year around