Walking from Yokohama station for 5 minutes.
I visited passing 11 o'clock on Saturday.
Appearance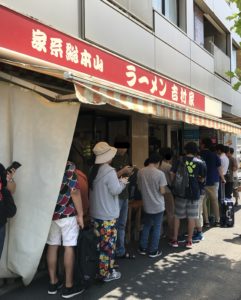 The store had a long line of more than 30 people when it was opend.But I could get the seat in the store within 1 hour.The seat turnover of customers is good efficiency.We should buy the chiket before line up.I impressed that the long counter has more than 20 seats.
Menu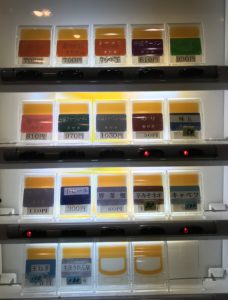 Chaasyuumen(hard,strong taste,oily)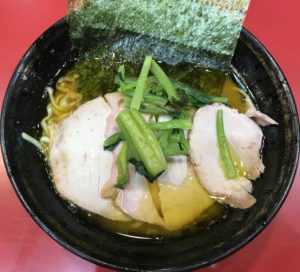 Soup:The high solty soup made by pork bone and the oil of chicken.
Noodles:The middle thick wavy flat noodle(made by Sakaiseimen)
Toppings:Roasted pork,Spinach,Dried seasweed
The tase of soysource is very strong.But it has flavor of seafood and the mild taste of pork bone too.Sakaiseimen is very famous noodle maker. The noodle with the low moisture rate has good chewy and the flavor of flour.The counter is had chopped inger,grated garlic,fried garlic,vinegar,sesame,green pepper and so on.This shop is the top of pork bone ramen in Yokohama.It dosn't only speed oder but also polite searvice.For example we can chose the kind of taste.That is is the amout of soysource,oil of chiken,hard o\f noodle.The shop is thinked about the feeling of costomers.
Information ※Need to confirm
Adress:2-12-6 Nankou,Nishi-ku,Yokohama-city,Kanagawa-prefectur
Opening hour:11:00-22:00
Closed:Monday