Walking from Monzennakacyoou station for 5 minutes.
I visited passing 18 o'clock on friday.
Appearance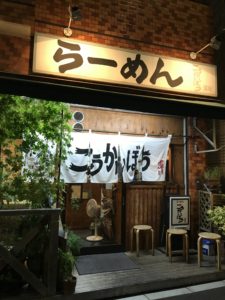 The bright and wide instore has a counter and some tables.The store is very popular  by how to contact customers  of local contact type.You need to attention because the opening hour is short in the evening.The system of order is the word by mounth.he words.Then the payment is by cash after eating.
Menu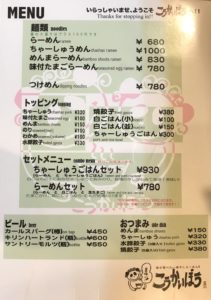 Ramen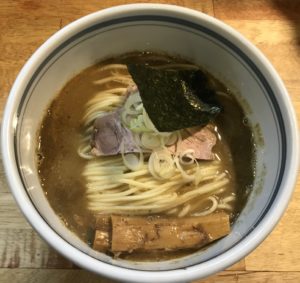 Soup:Blending  4 kinds of soy source to the soup stock of pork,chiken bone and small dried sardines
Noodle:The medium straight noodle is made by egg.(Suganoseimennjo)
Topping:Roasted pork,Bamboo shoots,Green onion,Dried seasweed
The store stuck to material of the salt made by Izu and the bowl made by Minoyaki and so on.The soup is very soft because low viscosity and low salty.The noodle made by egg has resilient and chewy.The roasted pork of shoulder roast is soft but it is dry.The bamboo shoots is thick and very chewy.The ramen is sticked to the taste of the soup more than the animal oil.
Information ※Need to confirm
Address:2-13-10 fukagawa,koutou-ku,Tokyo
Opening hour:11:00-15:00/17:30-18:30、Sat,Holiday 11:00-15:00
Closed:Wed,Sun