Walking for 4 minutes from Iriya station.
I visited passing 18 o'clock.
Appearance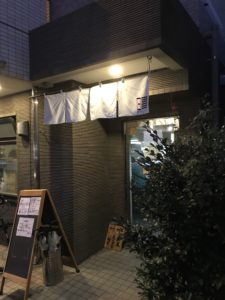 The store is just opened but there is a line of 8 people.Then i waited for 30 minutes.The instore has a L-type counter. You must be confirmed before visiting because the store is often cloosed.
Menu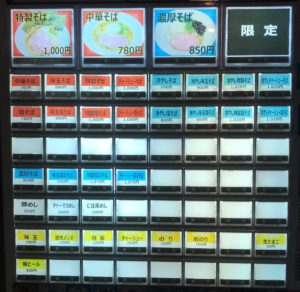 Noukousoba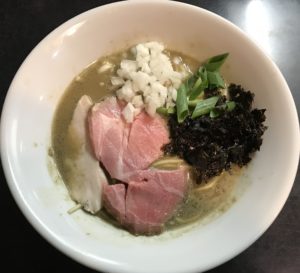 Soup:The low viscosity and solty soup stock of small dried sardines is the  Gray.
Noodles:The noodle with low moisture rate is straight and very chewy.(made by Murakamiasahiseimen)
Toppings:Roasted pork,Onion,Green onion,Wild harvested dried seasweed
The soup has the sharp taste of bitter by small dried sardines and strong salty.But the low viscosity soup isn't insistent.The noodle is very chewy because the boiled time is short to the last.The roasted porks are shoulder roast made by low temperatue and chicken breast meat.The onion and the soup made by small dried sardines are good compatibility.The Wild harvested dried seasweed have the smell of the coast.The extra ramen with roasted pork have 2 tastes of salt and soy source.The store can be tasted highly complete ramen made by small dried sardines.
Information ※Need to confirm
Address:1-11-7 shimoya,taitou-ku,Tokyo
Opening hour:11:00-15:00/18:00-21:00
Closed:Irregular