Walking from Ikejirioohashi station for 3 minutes.
I visited past 11 o'clock on Wendesday.
Appearance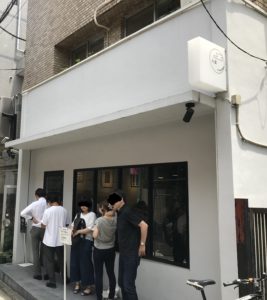 I arrived 15 minutes before opening.I was the first to arrive.But the store was a line of 6 people when it was opend.And the inside of store is simple and clearn because it has only U-letter counter.
Menu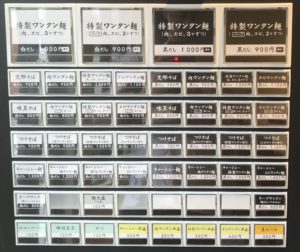 Tokusei Wonton men(Three of Meat,shrimp)Kurodashi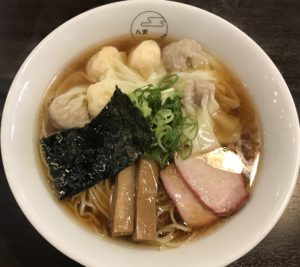 Soup:The soup stock of bonito and small dried sardines is mixed by soy source
Noodles:Thin straight noodle
Toppings:Roasted pork,Wonton,Bamboo shoots,Green onion,Dried seasweed
The clear soup is surprisingly simple and mild taste.The flavor of soup stock of seafood comes up from stomach to the nose.The noodle with high moisture is good chewy.The noodle isn't insist.But it becomes familiar with the soup.The wontons are closely packed by ingredients.The sheet of wonton is expanded by the soup.So these are hot and sliply. We can feel 2 kinds of taste.The ramen has a lot of insistence.
Information ※Need to confirm
Address:Enya Building 1F,Higashiya 3-6-15,Meguro-ku,Tokyo
Opening hour:11:00-14:00/18:00-23:00
Closed:Tuesday