Walking from west entrance of Asakusabashi station for 5 minutes.
I visited past 19:30 on Friday.
Appearance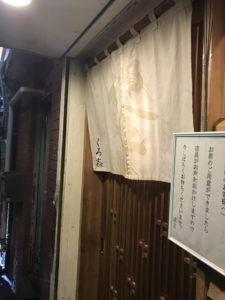 We should walk a little from the station.It has long line of people in front of the store. It seems high grade japanese restaurant.Because it has old shop curtain.It is late at night.But it has a line of 8 people.I waited for 20 minutes.It is very popular for foreigner too.Inside of the store has a only counter.We can look how to cooking of ramen from the counter.
Menu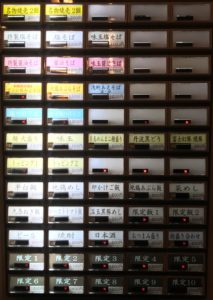 Shiosoba(Hosomen)

Soup:The soup mixed by the soup stock mede by small dried sardies,kelp.smoked mackerel and calm.
Noodles:The flat handmade noodle mixed by 3 kinds of flour are Minami no Kari,Yumenochikara and Aoba no Koi.
Toppings:Roasted pork,The ball of sardine,Bamboo shoots,Sprout,dried tomato,Japanese pepper,Ginger
First I feel the flaver of calm and seafood.We can choose noodle of thick or handmade. The noodle has good flavor of whole wheat flour and good chewy.The roasted porks are chiken and pork.The green onion is cut very thin And like the string. thin noodle is handmade.And voluminous.The roasted pork is particular about material and how to cooking.I hope only the prise less than 1,000 yen.
Information ※Need to confirm
Address:Kanada Izumi-chou 2-15,Chiyoda-ku,Tokyo
Opening Hour:11:30-15:00/18:00-21:00,Wed 11:30-15:00
Closed:Fri,Sun,Holiday