Walking From Ningyoucyou station for 2 minutes.
I visited at 16 o'clock on Monday.
Appearance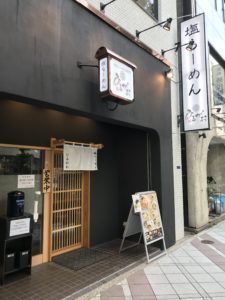 The store opend reacentlly.It is belong to sister store of Setagaya.It is provided the ramen of solty taste.The appearance of store don't have only beautiful but also the aesthetic of popular store.I could get the seat soon.Because it is passed lunch time.
メニュー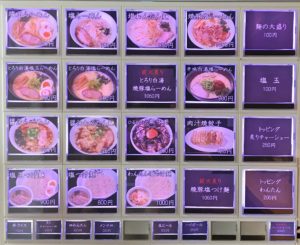 塩玉らーめん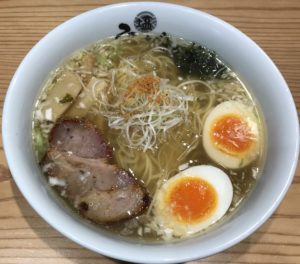 Soup:The natural soup made by kalp,calms,small dried sardines and solt made by vietnam.
Noodles:The handmade noodle with the flour made in Hokkaido.
Toppings:Roasted pork,Green onion,Bamboo shoots,Boiled egg,Dried sea lettuce
The clear soup is given the mild deep taste of solty and flavor of seafood.The noodle has sweet of flour.The roasted pork has the taste of sauce and smoky.The Dried sea lettuce made by Shimanto river is very vluable.The taste of ramen is light.But It has very particular about material and how to cooking.
Information ※Need to confirm
Address:Kyoudou Building 1F,Nihonbashi Ningyou-Chou 3-6-7,chuuou-ku,Tokyo
Opening hour:11:00-22:00
Closed:Sun