Walking from Ryougoku station for 5 minutes.
I visited past 12 o'clock on saturday.
appearance

The store has some tables and counter on wide flour.I could get my seat no waiting.The store has BGM by Imawano Kiyoshirou.He is japanese singer.It is recommended the soup stock made by beef bone.The set menu is really cool on lunch time.
Menu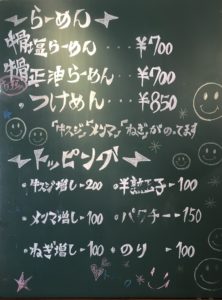 Gyuukotsu Ramen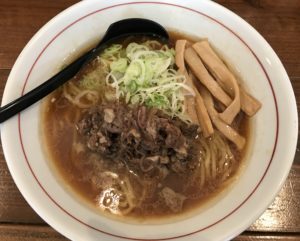 Soup:The solty soup made by soup stock of beef bone and soy source.
Noodles:The sliply and clear middle thick straight noodle
Toppings:Beef tendons,Bamboo shoots,Green onion
The soup is like fondobo. It has the flabor of beef and solty taste.It is covered by beef oil.But the taste is light.The noodle is good chewy.The main of topping is beef tendons. The soup taste has more good flaver because the beef tendons is soaked into the soup. For comparison the lunch set is 100 yen.That has the selection of don or curry or gyoza.The ramen is good cost performance.
Information ※Need to confirm
Address:Ryougoku 4-30-1,Sumida-ku,Tokyo
Opening hour:11:30-14:30/18:00-25:00
Cloosed:Sun,holiday