Walking from Shinjuku station for 4 minutes.
I visited before 19 o'clock on Tuesday.
Appearance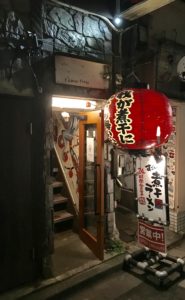 The store stay the center of Shinjuku Golden Town. It has many foreign touristes.Becouse It is famous on online information. It is on second floor.The wide is 13 ㎡.It is very difficult that the visitors pass each other. Of course it has only counter.And the step width of the stairway is too narrow as the foot protrudes.So I think it has very popular because it is unpretentious.
Menu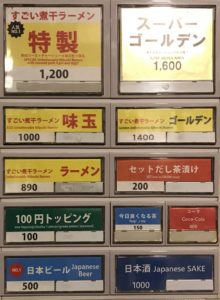 Sugoi Niboshi Ramen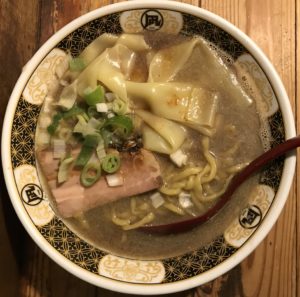 Soup:Ths soup stock is mede by 20 kinds of small dried sardines.And the surface has the powder of small dried sardines.
Noodles:The middle thick homemade wavy noodle and the wide noodle
Toppings:Roasted pork,Green onion,Head of small dried sardines
The soup has strong taste of small dried sardines.But it desen't have bitter taste.Because the every small dried sardines are removed internal organs by manual work.I feel that it has salty sweet taste because it has high solty taste of soy source and sweet taste of bomito. The middle thick noodle has very chewy.And has flavor of flour.The wide noodle is 20 × 3 ㎝.And it has soft and pleasant on my tongue.Ths source of head of small dried sardines is made for many days.I think this ramen is the best ramen of taste of small dried sardines in japan.
Information ※Need to confirm
Address:1-1-10-2F kabukicyou,Shinjuku-ku,Tokyo
Openig hour:24 hour
Closed:openig all year around