Walking from Kyoubashi station for 2 minutes.
I visited passing 20 o'clock on Monday.
Appearance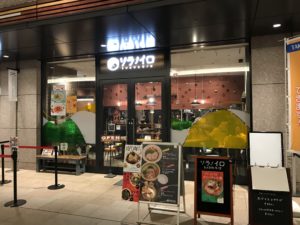 The fahionable store is under the Kyoubashi-Edogran building.The visitor is a little because on summer vacation.I think the store is popular for women because it has healthy menu.
Menu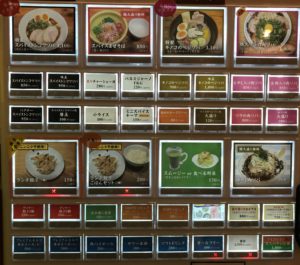 Kinoko no Bejisoba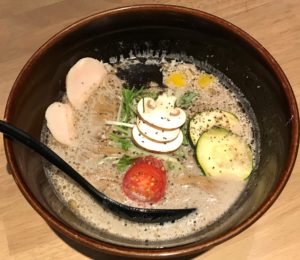 Soup:The vegetarian Solty soup consist of Veg brot,h,Soy milk,mushroom
Noodles:The thick wavy noodles made by flour in overseaand mushroom,olive oil
Toppings:Boiled chiken,Paprika,Arugla,Zucchini,Tometo,Mushroom
The refreshing soup made by little fat and mushroom oil make the taste had ful-bodeid.The chewy thick noodles can feel the mushroom colar but also flavor. The roaste pork made by chiken breast is no fat.I think the women feel like favorite because the vegetabes are colarful and voluminous. If you want to eart more,i recommended the cheese risotto.The ramen is very healthy because it made by many vegetable.
Information ※Need to confirm
Address:Edogran B1F,1-2-2 kyoubashi,cyuuou-ku,Tokyo
Opening hour:11:00-15:30/17:00-22:30,Sat,Sun,Holiday 11:00-20:30
Closed:Depend on Edogran