Walking from Kameari station,for 3 minutes.
I visited passing 18 o'clock on Tuesday.
Appearance

The store had the line of 12 people when it is opened.How to get the ticket is before getting in line.The instore has bright,clean and the counter.You can confirm the noodle-machine near the entrance.
Menu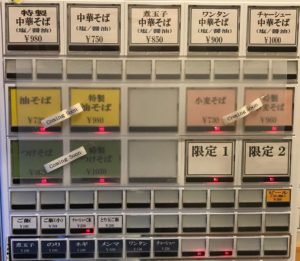 Tokuseichuukasoba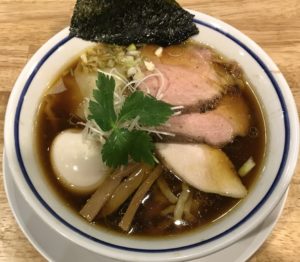 Soup:The clear strong soy soup made by the soup stock of chiken
Noodles:The chewy thick wavy noodles with high moisture
Toppings:Roasted pork,Wonton,Boiled egg,Bamboo shoots,Dried seaweed,Edible clover
The oil covered the soup and the taste of seafood make the taste of sotrong soy source mild and sweet. The noodle have soft and sliply because  it are boiled for long time.The roasted pork is shoulder libs and chiken breast made by low temprature heating.The material of wontan is chiken,pork and Japanese basil.The boiled egg is cooked polite too.This ramen could make reconfirmed good taste of noodle with high moisture.
Information ※Need to confirm
Address:Marvelos daikyou building 1F,3-11-11 ameari,katsusika-ku,Tokyo
Opening hour :11:30-14:00/18:30-21:00
Closed:Sun,Mon