Walking from Shinjuku station for 5 minutes.
I visited passing 18 o'clock on Friday.
Appearance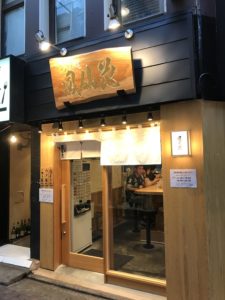 The store is clean and cool because that was opened recently.The instore has U-letter counter.That has some faucet for drinking water.The customer sarvice is good because  the cleck ask to needs of apron.
Menu

Ramen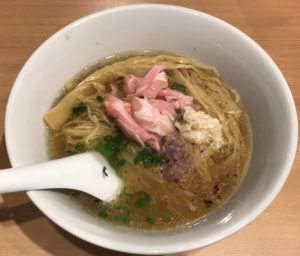 Soup:The clear soup of soup stock of red snapper
Noodles:The wave noodles with high moisture made by some kind of  whole wheat flour
Toppings:Roasted pork,Red snapper,The tip of bamboo shoots,Red onion,Green onion
The solty soup made by bone of red snapper has  fish flavor and ful-bodied.The red snapper is changed good taste by burning.The thin noodles have sliply and the flavor of flour. The roasted pork is the shoulder  roast cooked by low temperature hearting.The tip of bamboo shoots is big meal.It is recommended the Ochaduke of red snapper because you can eart the soup to the last.I could feel the sharp and storng taste of red snapper.
Information ※Need to confirm
Address:1-24-6 Kabukicyou,Shinjuku-ku,Tokyo
Opening Hour:11:30-23:00
Closed:All year around