Walking from Ebaranakanobu station for 2 minutes.
I visited passing 12 o'clock on sunday.
Appearance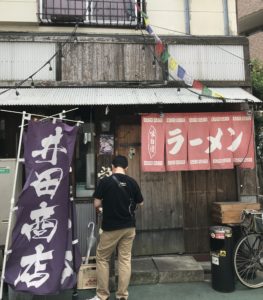 The best 100 stores award was given  by Taberogu.The store had a line of 5 people.Then I waited for fifteen minutes after entering.There is only a counter inside the shop and narrow.And radio resound.The system of oder is by word of mouth.Then the payment is by cash after eating.
Menu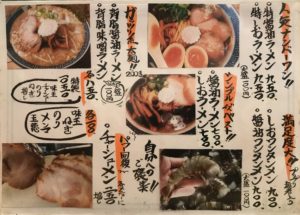 Soy source ramen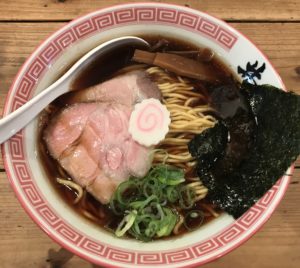 Soup:The strong soy source soup of the soup stock of amimal and seafood.
Noodle:The medium thickness wavy noodle made by egg
Toppings:Roasted pork,Naruto,Bamboo shoots,Onion,Dried seasweed
The black strong soup such as Toyama-black is very salty. Then if you like this taste,you will become addicted.The noodle has the flour flavor and very chewy.The roasted pork has 2 types of back ribs and ham.The bamboo shoots are flat and the strong taste.If you put in the grated garlic on the table,the taste will became more stronger.The naruto taste is decoration.It is the ramen want to to eart on ahot day because very solty.
Information ※Need to confirm
Address:2-16-8 nakanobu,shinagawa-ku,Tokyo
Opening hour:11:30-14:30/18:00-21:00,Sun holiday 11:30-14:30
Closed:Irregular