Walking from South entrance of Koiwa station for 2 minutes.
I visited before 20 o'clock on Thursday.
Appearance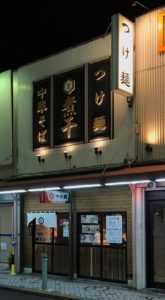 The store is the sister store of Tsuki to Suppon.It has only L-letter counter,but there is wide space between the seats.It has many costomer of sararied worker late at night.
Menu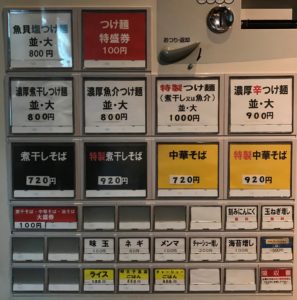 Niboshisoba(Chopped garlic,More Green onion)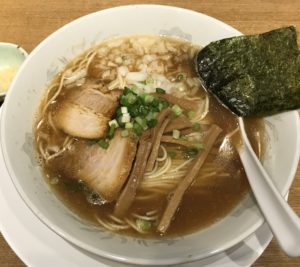 Soup:The soup stock made by chiken bone has strong flavor of dried small sardines is mixed soy source.
Noodles:The thin straght noodle(made by Mikawayaseimen)
Toppings:Roasted pork,Bamboo shoots,Onion,Green onion,Dries seasweed
It is famous store by Tsukemn.But I ordered ramen.The soup is used 5 times dried small sardiness more than the standard ramen.The soup have the taste of light and little bitter.The noodle with low moisture rate such Tonkotsu ramen is good chewy.The roasted pork is pork back ribs and very soft.It is carefully seasoned.The chopped garlic and the more Green onion are free.And there are good compatibility for ramen.The ramen is gathered the best of taste of dried small sardiness.
Information ※Need to confirm
Address:7-27-7 Minami Koiwa,Edogawa-ku,Tokyo
Opening hour:11:00-15:15/17:30-22:15
Closed:Tuesday