Walking from east entrance of Hakata station for 6 minutes.
I visited at 20 o'clock on Tuesday.
Appearance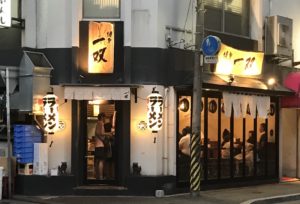 The store is found easy because it has smell of pork bone and the door glazed. And it is located near main street. I could sit the seat soon nothing waiting because the turnover rate is fast.The instore has energetic music of japanese Syamisen.
Menu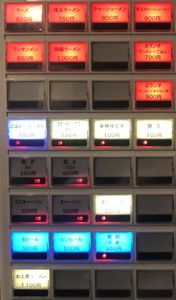 Ramen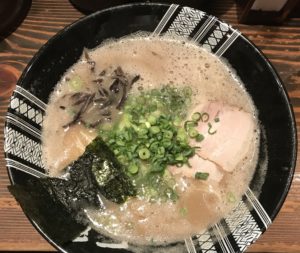 Soup:The white soup emulsified made by pork bone.
Noodles:The fewer thin wavy noodle with low moisture rate.
Toppings:Roasted pork,Green onion,Bamboo shoots,Wood ear mushroom,Dried seasweed
The store has a rumor that is the best of ramen in Fukuoka prefecture.The waiting time is only 3 minutes after order.The soup emulsified is rich and mild.The noodle has the flavor of flour.The amount of first ramen is fewer but the price is cheep even if refill is ordered.The simple topping aren't interfere because those has the more mouthfeel than taste.This is genuine ramen of Tonkotsu.
Information ※Need to confirm
Address:3-1-6 Higashi,Hakata-ku,Fukuoka-city,Fukuoka-prefectre
Opening hour:11:00-24:00
Closed:open all year around