Waling from Ayase station for 5 minutes.
I visited passing 12:30 on Sunday.
Appearance


The store manager come from "Mendokoro Sei" in Iriya.The flavor of dried sardines is enclosed around the store.The ticket should get before join a line of people.I joined the line of 15 people.But I watted surprisingly only 30 minutes.It's very early.The instore can be hear the very lively music.
Menu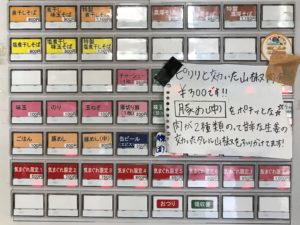 Niboshisoba

Soup:The clear soup made by some kinds of small dried sardines.And floated the little chips  on the surface
Noodles:The thin straight noodle with low moisture rate (Made by Murakamiasahiseimen)
Toppings:Roasted pork,Japanese mustard spinach,Green onion,Dried seasweed
The soup has the strong taste of small dried sardines and has high solty.But it has good balance with soy source.So it is high quality of ramen.The noodle is "Murakamiasahiseimen'"same as "Mendokoro Sei".It has strong flavor of flour.And It is going down smoothly.The ramen like "Mendokoro Sei" about appearace.But the taste is different.The store can taste high quality ramen made by dried small sardines.
Information ※Need to confirm
Address:2-1-4 Ayase,Adachi-ku,Tokyo
Opening hour:11:30-14:30/18:30-21:00
Closed:Tue,Wed