Walking from waseda station for 5 minutes.
I visited passing 12:30 on Saturday.
Appearance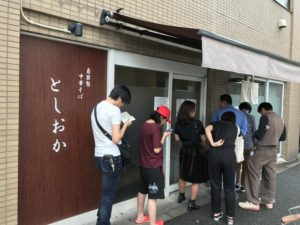 The store has very long line of people.Because it is opend only 3 hours a day.When I visited it has the line of 15 people then I waited 1 and a half hours.The instore has the only counter.The ramen is checked the taste every cooking.
Menu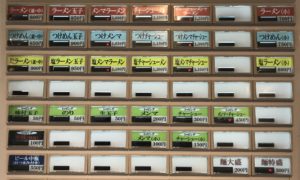 Shioramen small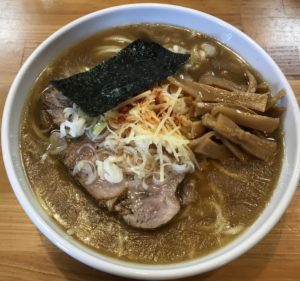 Soup:The 2 kinds of soup stock of seafood and animal are mixed salt sauce. Finally the hot oil is droped.
Noodles:The hundemade middle thin noodle with high moisture rate
Toppings:Roasted pork.Bamboo shoots,needle ginger,Green onion,Dried seasweed
The soup has the strong taste of seafood more than salt.It is plain taste surprisingly.But then I can taste the mild flavor of animal.The surface of soup was had the film of collagen little time later.The needle ginger is made the taste refreshing.The noodle has very chewy.The small size is 150g.The meddium size is too much to eat. The roasted pork has very thick.The bamboo shoots are chewy too.It is large amount but supporting actor of the ramen.The ramen has the noodle and soup with handmade taste.
Information ※Need to confirm
Address:102-20 bentencyou,shinjuku-ku,Tokyo
Opening hour:>11:00-14:00
Closed:Sun