Walking from Ginza station for 3 minutes.
I visited before 15 o'clock on Monday.
Apearance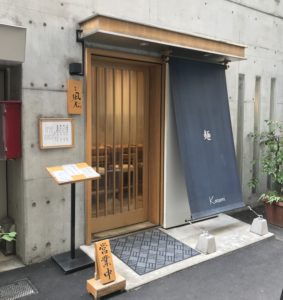 The store stay on a back street silently. The ramen is mede by japanese Sake lees.It is new ramen style.I could sit the seat becwuse it isn't lunch time.
Menu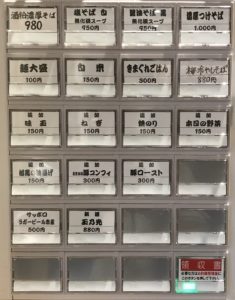 Sakekasu Noukou Soba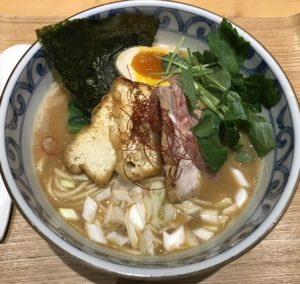 Soup:The creamy and non chemical seasoning soup made by soup stock of chicken bone,oyster,clams and jamanese Sake lees.
Noodles:The middle thick straight noodle with low moisture rate.
Toppings:Roasted pork,Fried tofu,Seasoned egg,japanese spinach,Green onion,edible clover,Dried seasweed,Slided red pepper
It seems like japanese stew.because it has the strong taste of japanese Sake lees.First it has shockng taste.But if I seat for a while I become more familiar. I became a habit.The taste has strong preference.The noodle taste is flat because the taste of soup is storong.But it has good chewy.The roasted pork is pork back libs and shoulder roast mede by low temperature heating.The egg is seasoned strong.The taste of japanese spinach is refeshisng.I expect it as a pioneer in the new field of ramen.
Information ※Need to confirm
Address:Asagi building 1F,Ginza 6-4-13,Chuuou-ku,Tokyo
Opening hour:11:30-15:30/17:30-22:30,Holiday 11:30-20:00
Closed:Sun