Walking from Awajimachi station for 3 minutes.
I visited passing 18 o'clock on Friday.
Appearance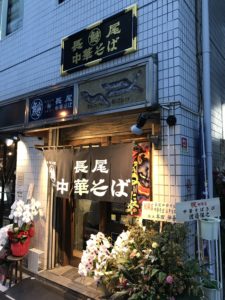 The store is new-comer.The recommendation is the ramen made by small dries sardines in Tsugaru.The instore is small and has L-letter counter and 2 tables.The taste can acked our lips at the authentic because the store manager is from Aomori.
Menu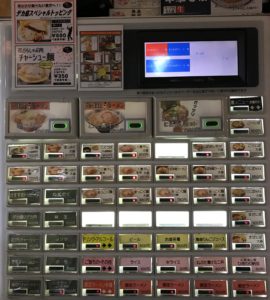 Gokunibo(rare menu)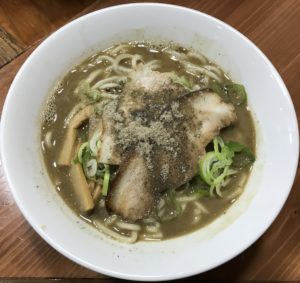 Soup:The gray soup isn't same as my imagination because it have my low viscosity and fine-grained.
Noodles:The sliply middle thick straight noodle with high moisture rate.
Toppings:Roasted pork,Green onion,Bamboo shoots,Fish powder
We don't feel rare menu from ticket-vending machine.But the gray soup doesn't have bitter.Then it has the clear taste with sharp of salt. The noodle is feel novelty because it has elasticity and going down smothly.The roasted pork is pork belly and very thin. But you can order more Roasted pork then the visual changed very beatfull too.The new category of ramen made by small dried sardines is established.
Informatioin ※Neet to confirm
Address:Kanda ogawamachi heights 108,Kanda Ogawamachi 1-7,Chiyoda-ku,Tokyo
Opening hour:11:00-14:30/17:00-21:30
Closed:Sat,Sun,Holiday