Walking from Omokagebashi station for 4 minutes.
I visited at 14 o'clock on Saturday.
Apprearance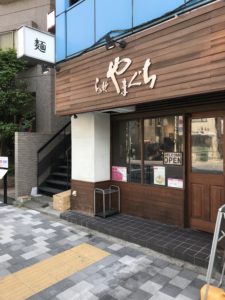 The store is facing the main street.It has a long line of people everyday because it is very popular.I waited for 30 minutes when I visited because it had a line of 5 people.The instore has tall U-letter counter.So it is stylish.The menu for a limited piriod only is popular too.
Menu

Toriwantansoba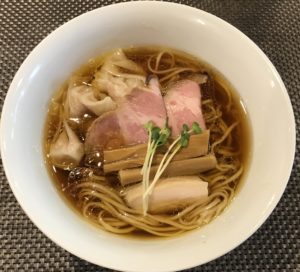 Soup:The clear soy source soup made by Aizu chiken.
Noodles:The flat thin noodle made by japanese flour.(produced by Menyateigaku)
Toppings:Roasted pork,Wonton,Bamboo shoots,Radish sprouts
The soup is high solty because it is made by soy source.But the soup covered by chiken oil is very soft taste. The chiken is the special orders made by Kyouto.The noodle is going down smoothly.But the flat syape of noodle is novel.The roasted pork is sholder pork and soft round chiken.The wonton have citron flavor and soft chewy.The bamboo shoots have nice crunchycrisp.The all of toppings are followed trends too.So the ramen is good taste  because the toppings is selected careful.
Information ※Need to confirm
Address:Yamatake building 1F,2-11-13 Nishiwadeda,Shinjuku-ku,Tokyo
Opening hour:11:30-15:00/17:30-21:00,Sat,Sun,Holiday 11:30-21:00
Closed:Mon