Walking from sumiyoshi station for 10 minutes.
I visited after 19 o'clock on saturday.
Appeareance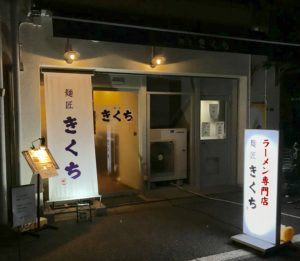 The store is very far from the station.I recommendate by bus because there are no parking around the store.The store has the counter and some tables.The account system is the order by word,then the payment after the  earting.
Menu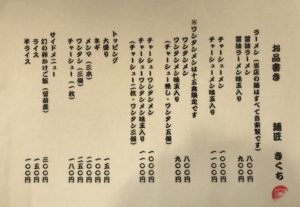 Soy souce ramen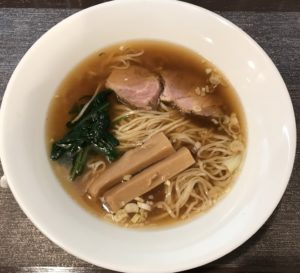 Soup:Mixing soy soup with soup stock of only amimals that don't use seafood.
Noode:Thin and straight whole wheat four noodle made in Mie-Prefecture.
Toppings:Roasted pork,Bamboo shoots,Spinach,Green onion
The crystal-clear soy souce soup is added the soup stock of animal with rich and sharp taste. The noodle with high moistue is slippery.They really care about noodle.The spelt flour of material of noodle has the effect of Anti-aging.Then the noodle has the smell of flour and the sweetness.The roasted pork is healthy because the fat is very  little.and firmness is very soft.The bamboo shoots are made took five days by no chemical seasoning.And have good crunchy.The ramen isn't individual but they think the each raw materials are important.The ramen has very high possibilite to be delicious.
Information ※Need to confirm
Address:101 Sun-heights,22-5 senda,koutou-ku,tokyo
Opening hours:11:30-15:00/18:00-20:30、Sat 11:00-15:00/18:00-21:00、Sun 11:00-15:00
Closed:Mon、The third Tue