Walking from Oomori station for 4 minutes.
I visited at 14:00 on Saturday.
Appearance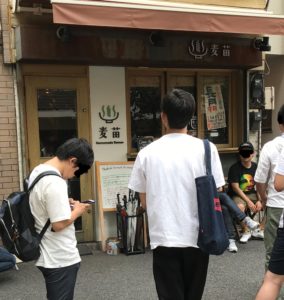 It wasn't time of the lunch, but the long line of more than 20 people was made.I was one, so I was able to enter the store preferentially.I was lucky.But I waited for an hour.The shop has a counter seat, a calm atmosphere
Menu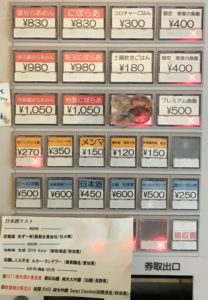 ramen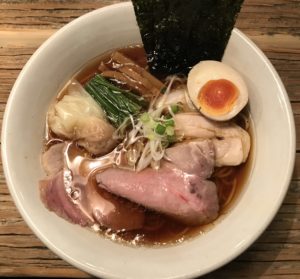 Soup:Soup taken from chicken's bones and marrow.Seafood such as small dried sardines and bonito and kelp are blended.
Noodles:Homemade medium-slender straight noodle(brand of flour:Haruyokoi)
Topping:Roasted pork,Wonton,Half boiled egg,Spinach,Bamboo shoots,Green onion,Dried seaweed
The soup has a rich taste with amimal flavor and is refined by the taste of seafood.The noodle is chewy.The roasted porks have 4 types of pork shoulder,pork back,pork ham,chicken leg.Each different condiment.Chewy shrimps and juicy minced pork in wonton.Bamboo shoots made over 3 days.It is very cheep becouse I can eat spechials only adding $2.This ramen has cream skimming of soup,noodles and topping.
Infomation ※Need to confirm
Address:6-11-10 Minamiooi,sinagawa-ku,Tokyo
Opening hours:11:30-14:30/18:00-,Sat Sun 11:30-16:30
Closed:Thu